Experience a day in the life of an HCECA Apprentice
See how classroom instruction, combined with on-the job training, gives you the knowledge and hands-on experience to be successful in this high-demand field.
Apprentices get paid to work while receiving a top-notch education.
In 2022, average hourly wages of electricians in Maryland were $31.84.
Employment of electricians is projected to grow 6 percent from 2022 to 2032, twice the average for all occupations.
Electricians who can perform many different tasks, such as electronic systems repair, solar photovoltaic installation, and industrial component wiring, should have the best job opportunities.
About 73,500 openings for electricians are projected each year, on average, over the next decade.
Successfully complete this four-year program and you'll earn a Journeyperson Certificate from the Maryland Department of Labor. This certificate is evidence of your training and skills, making you highly employable. Beginning July 1, 2022 this certificate will allow you to apply though the Maryland Department of Labor for a license as a journeyperson electrician without having to take an exam. The exam is waived for graduates of a registered apprenticeship program.
Becoming a licensed journeyperson electrician means you will be earning a journeyperson's wage.
Electrical licenses are issued through the State of Maryland. For more information visit. https://www.dllr.state.md.us/license/elec/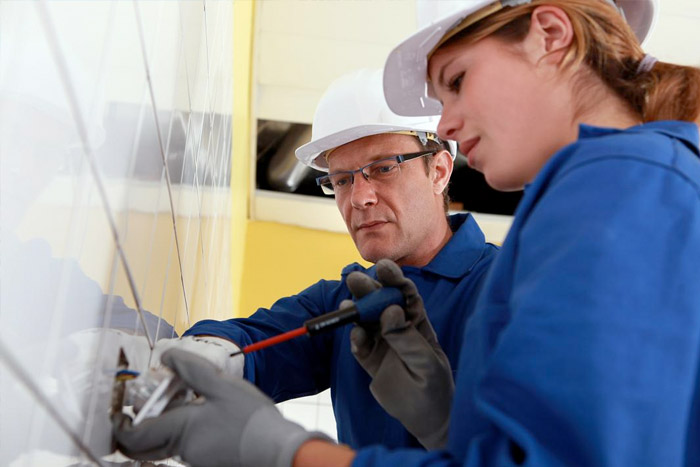 Work full time (2,000 hours of on-the-job training each year).
Quick link to our hiring list.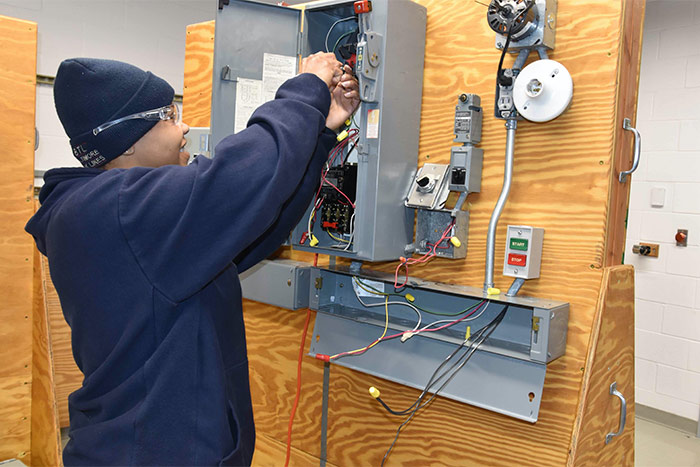 144 hours of in-classroom instruction per year (Classes meet from September through April, twice a week from 6:15-9 p.m.)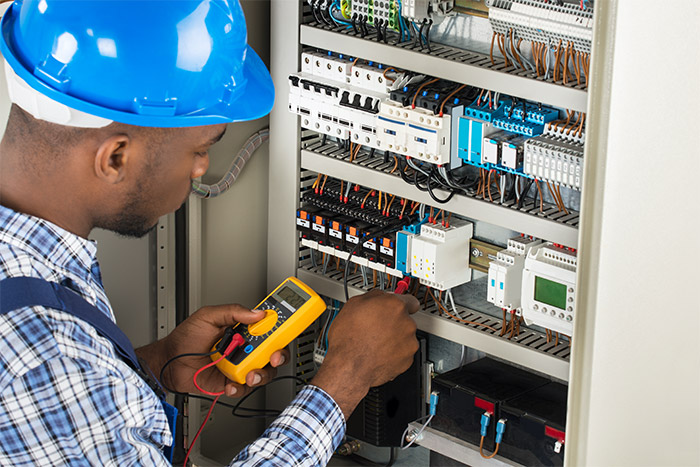 Journeyperson Certificate
Graduates earn a journeyperson certificate upon completion of the program. Electrical licenses are issued by the State of Maryland.
Apprenticeship Career Opportunities
You can take your career as far as you want to go! Completing a 4-year apprenticeship opens the door to various paths including owning your own business or completing an associate degree at Harford Community College with up to 21 credits earned through the program.
RESIDENTIAL - COMMERCIAL - INDUSTRIAL
Learn the skills to build/wire, troubleshoot, repair, and replace electrical systems for all types of buildings such as sports facilities, factories, homes, shopping centers, and restaurants.
The Harford County Electrical Apprenticeship program is offered through a partnership between the Harford County Electrical Contractors Association (HCECA) and Harford Community College. Our goal is to provide the electrical construction Industry with the most highly trained and skilled workforce possible.