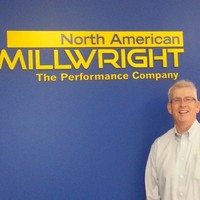 "The Harford County Electrical Apprenticeship program's management and staff has been a joy to work with. In the construction world, it's invaluable to work with a program that is so well managed and with whom we have a great relationship. We take pride in our apprentices working one-on-one with a master electrician and to have the apprenticeship school validating all that they're learning on the job; it really gives them the confidence they need to be the very best in their careers as electricians."
CFO/COO, North American Millwright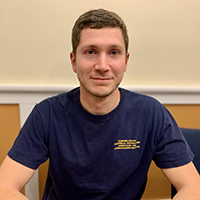 "This program helped me build my knowledge and future career as an electrician, and I was continuously inspired by my instructors' passion for and knowledge of the electrical trade. What I was learning in the classroom often related to what I was doing on the job which helped reinforce the material. While it's challenging to work full time and attend class two nights a week, earning a paycheck during this time helped me to provide stability and support for my family. Plus, I've already doubled my income in just a few years. For those that want more in their life, but don't know how, this program and the electrical trade can provide the skills and tools to harness a solid career. It takes some grit and determination to go through the program, but it's definitely worth it!"
4th Year Student, Apprentice, Schemm Electric Co., Inc.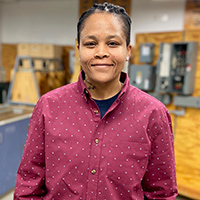 "The Harford County Electrical Apprenticeship program's Master Electrician Exam Prep course came highly recommended among a group of my peers who had recently taken the exam. Between the reasonable cost of the course and the close distance to my home, this was an opportunity I couldn't pass up. The instructor Steve St. Croix's style of teaching made taking the exam so much less intimidating for me. I knew I was set up for success right from the start. On day 1 of the class, he had us write MASTER ELECTRICIAN in the front of our textbook and above it our signature. Every time I opened my book, I was reminded that I was destined to be what I was reaching for."
Journeyperson Wireman, Battaglia Electric, Inc.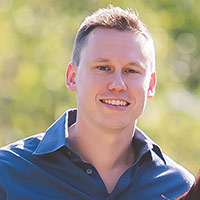 "I Loved the HCECA and the instructors–Jack Mitchum, George Rockocy, Jeff Paul, Lee Jolley, Dennis Felts, Ronn Blaney, and Steve St. Croix—who not only gave me the electrical knowledge I needed, but they gave me the life and business advice I needed to be successful in starting my own electrical & automation company.  If I wanted to discuss installations, no problem. But if I wanted advice on running a work van, becoming a foreman, estimating, project management, or starting my own business and setting the world on fire, they had the answers to make that all happen as well. If you want to be the best electrician out there, they can help you do that. If you want to take control of your career path, they can help you do that, too."
2006 HCECA graduate
Owner and President of Pendant Automation, Inc. | Owner and Lead Engineer of Timpson Electrical & Aerial Services, LLC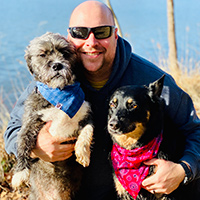 For Travis Anderson, a career in the trades was Plan B. As a student fresh out of high school in Essex, Maryland, he had aspirations of becoming an engineer. Starting out at CCBC in Baltimore, Travis began his studies–but with limited money from family, no loans, and minimal financial aid, he simply ran out of funds and decided to work for a while until he got back on his feet. He started working for a neighbor who was a plumber and earned $10 an hour, which at the time he felt was good money. But when circumstances led to his no longer being able to work for his neighbor, he was out of work — and out of money. Travis finally found the Harford County Electrical Apprenticeship program where he attended classes twice a week in the evenings for four years, while working full-time as an apprentice for a local electrical contractor. From wiring houses in the cold winter months to commercial and maintenance work, Travis gained a wide breadth of experience. Fast forward to today where Travis is currently working as the lead electrician for a huge government contractor, he is grateful for the various job opportunities along the way that positioned him for ultimate success.
Upon his graduation and earning his journeyperson certificate from the State of Maryland, Travis considered his many options. He knew he could take his skills far – but he also knew he still had so much to learn. Working at Kolb Electric he learned the business side of the electrical trade as a project manager/estimator. He learned much from senior level people at the company, but later sought something that would give him more autonomy. His next job involved learning high voltage work by working for Metropolitan Washington Airports Authority (MWAA). With his varied experience under his belt, Travis' next position was where he is today, working for EMCOR Facilities Services, where he is the lead facilities electrician for a billion square foot complex.
Travis says, "If it wasn't for HCECA, I wouldn't have had the perspective and mentoring that gave me the ability to navigate the best outcome of a career I could have possibly asked for."
His experience throughout the years at HCECA was marked by positive experiences, with his interactions with the apprenticeship staff, but even more importantly his instructors, who Travis feels were instrumental in laying the foundation and making it possible for him to be where he is today.
Travis believes deeply and passionately in the value of trade schools and calls them the "other four-year degree." With a starting salary in the area of $48-$52K per year and no debt from university tuition, the value is clear. Travis felt he was light years ahead of many of his friends who graduated from college with significant debt. He takes pride in personally shattering the stigma of the trades. And he attributes HCECA with setting that foundation.
What's next for Travis?
He's passionate about safety on the job and as such has trained to be a Site Safety Health officer for his company where he is responsible for safety training and environmental safety and health in addition to his duties as lead facilities electrician. He also recently earned a certificate from the University of Alabama for Occupational and Safety Health Management.
Although the path was not easy, and despite naysayers along the way, Travis knew he needed to just keep moving forward. His energy, passion, dedication, and determination most certainly paid off – and there are most certainly more good things in Travis's future.
2011 HCECA Graduate
Lead Electrician, SSHO (Site Safety Health Officer), CEP (Certified Environmental Professional) EMCOR Facilities Services, Inc.